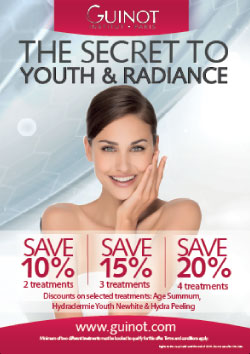 PERSONALISED RADIANCE & YOUTH PACKAGE JUST FOR YOU News valid until 01/04/2018
Are you looking for radiant, more youthful skin? We may have the perfect course of treatments for you!
Receive 10% off 2 treatments, 15% off 3 treatments, 20% off 4 treatments!
Choose from the following treatments:
Age Summum: The Ultimate Anti-Ageing treatment. Revives skins radiance and firmness whilst reducing those pesky lines and wrinkles using Pure Vitamin C, Hyaluronic Acid and Pro-Collagen.
Hydradermie Youth New White: The brightening version of the Hydradermie Youth treatment. Visibly rejuvenates the skin by increasing cellular energy.
Hydra Peeling: Reduces signs of ageing, brightens a dull complexion and diminishes dark spots.
Terms and Conditions apply.